Selling a home can be a challenging task. However, recent research has identified certain luxury features that may help sell your home for more money or faster than expected. According to the study, renovations that bring more value than others when it comes time to sell can add up to about $17,400 on a typical U.S. home.
Two chef-friendly features, steam ovens, and pizza ovens, topped the list of those that helped sell homes for more. Other top features included professional appliances, terrazzo, "she sheds," soapstone, quartz, a modern farmhouse, hurricane or storm shutters, and mid-century design. The study also found that doorbell cameras, soapstone, open shelving, heat pumps, and fenced yards were among the features that helped sell homes faster than expected.
Homeowners should note that adding these features doesn't necessarily guarantee a sale or a premium price. Additionally, unique features like "she sheds" may take longer to find a buyer who appreciates them. However, these features serve as signals of perceived quality that buyers associate with a nice home.
"These personalized features kind of add that wow factor to a home."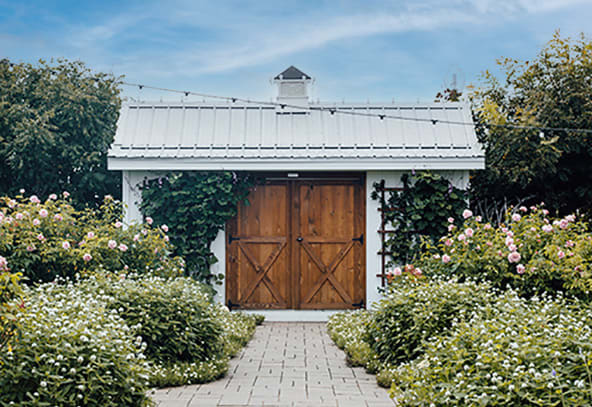 "She Sheds": personal spaces that create signals of perceived quality.
Top 10 luxury features that can help you sell your home faster and for more money, according to the research findings
1. Steam Ovens
2. Pizza Ovens
3. Professional Appliances
4. Terrazzo
5. "She Sheds"
6. Soapstone
7. Quartz
8. Modern Farmhouse Design
9. Hurricane or Storm Shutters
10. Mid-century Design
"Make changes you can enjoy now, but will add value when you sell."
Existing homeowners are now more likely to focus on improvements that bring more joy to their living spaces, according to Jessica Lautz, Deputy Chief Economist at the National Association of Realtors. Maximizing the square footage of a home and adding home offices are popular among homeowners who want to remodel but don't want to give up their low-interest rates.
Some home improvements also provide a return of 100% or more when the home is put on the market. Refinishing hardwood floors, upgrading insulation, and adding new wood flooring are among the top improvements that not only make a home more beautiful but also more marketable.
Finally, the study found that certain features like tile countertops or laminate flooring or countertops may hurt a home's resale value. Walk-in closets may also negatively impact a home's value as buyers may prefer to use the space for other purposes.
If you're thinking of selling your home, it's worth considering adding some luxury features to make it stand out in the market. As the research shows, these features can set you ahead of the competition and potentially increase your sale price.
"The current housing market is anything but traditional."
Rina Kunk, with over 18 years of experience in real estate, has the expertise and unique qualifications to help sell your home fast and for more money, all while making the process enjoyable for you. She understands the local real estate market in the Washington DC, Maryland, and Virginia area and has a proven track record of success. Rina has a keen eye for luxury home features and knows how to market them effectively to attract the right buyers. With her dedication, knowledge, and exceptional customer service skills, Rina can help you achieve your real estate goals with ease. Trust her to handle all aspects of the sale and make it a stress-free experience for you.